Getting Started with Training
The first step for a school administrator to get their campus started with Education Galaxy is to attend a Kickoff Webinar. This webinar is specifically for the administrator on the account and is not in-depth teacher training. 
TRAINING TEACHERS AND STAFF MEMBERS:
We provide 3 options for training teachers and staff members on implementing the program and using it with their students. You can choose to participate in online self-paced training modules, attend a live virtual training webinar, or watch a recording training session.
Our training webinars provide the opportunity to join one of our program experts live via Zoom. We are offering webinars daily at varying times, click on the link below to register for a day and time that works best for you. We released a new enhanced student and teacher dashboard this year, so this training is recommended for teachers with all levels of experience with Education Galaxy. If you are unable to attend the webinar you registered for a recording will be emailed to you once the session is complete.
Watch our on-demand recorded training videos during a staff meeting or provide staff members with the flexibility to watch independently.
Watch the video below to learn more about our self-paced teacher training modules:
We know it can be difficult for teachers and staff to get together for a meeting, either in person or via Zoom.  To address this issue our team came up with a new way to conduct training for teachers that was self-guided and engaging. 
To complete the training modules teachers go to the "Training" tab in their Education Galaxy account.

Then select the correct platform, either K-1 Program, Elementary, or Intermediate/Middle, and complete the Student and Teacher Experience training modules.  Each course consists of 3 short videos and a quiz. Once teachers complete the courses they will be able to print a certificate for 1-hour of Professional Development and download certified teacher badges they can flaunt in their email signature from the achievements tab.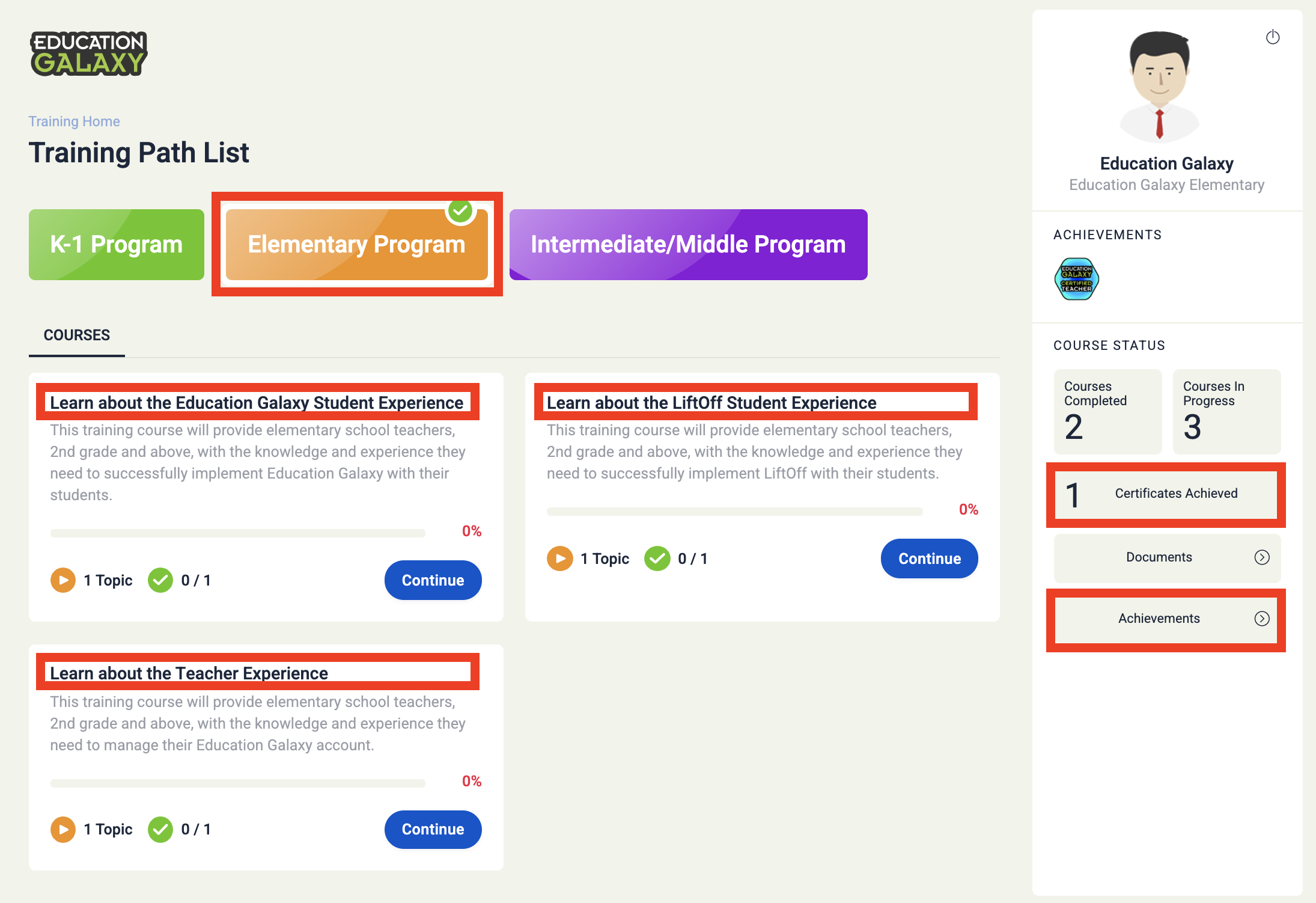 Teachers can also access and download helpful resources from the documents tab. Documents include things like: Training Guides, Remote Learning information, Alien Ranking Cards, etc.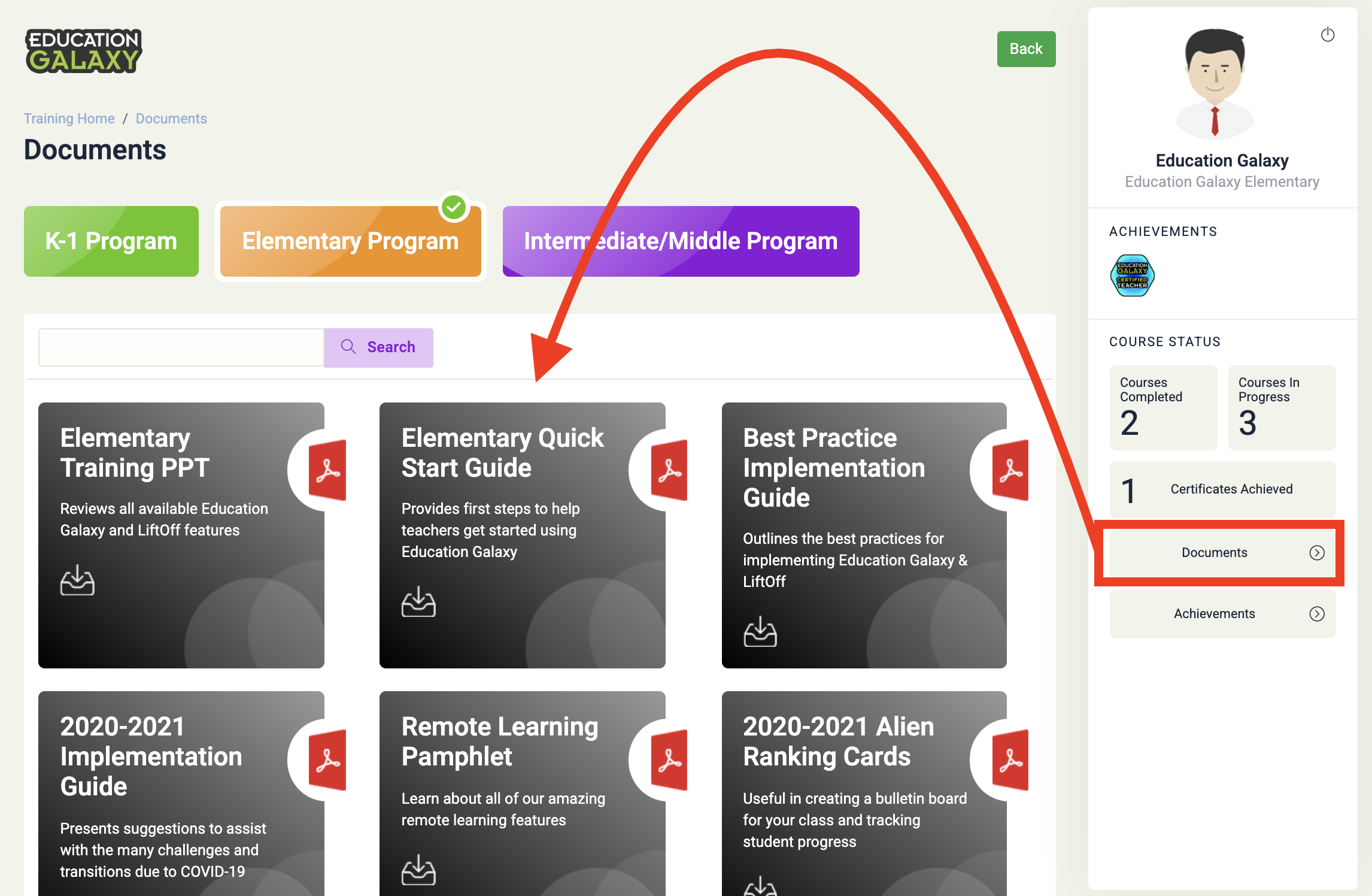 From the administrator account, there is an option to check the training progress for each teacher under Training> Teacher Training Reports. Filter by the training program and/or progress, then view or export the report.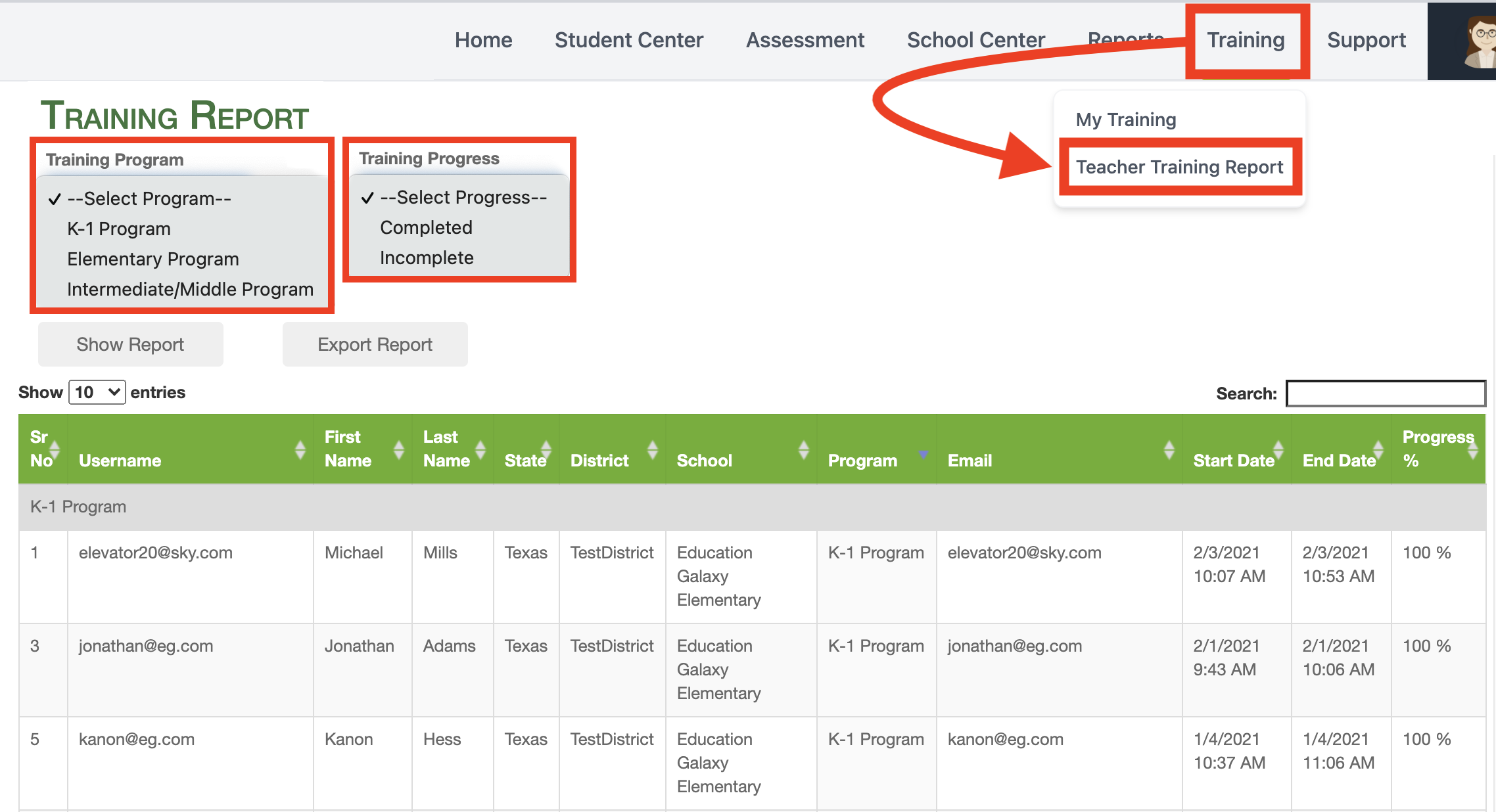 Training Modules are a great way to encourage teachers to get the most out of the campus Education Galaxy subscription!
---
---